Ellis Ambassador for Divesangha clothing
Published on Tuesday, February 2nd, 2016, under Media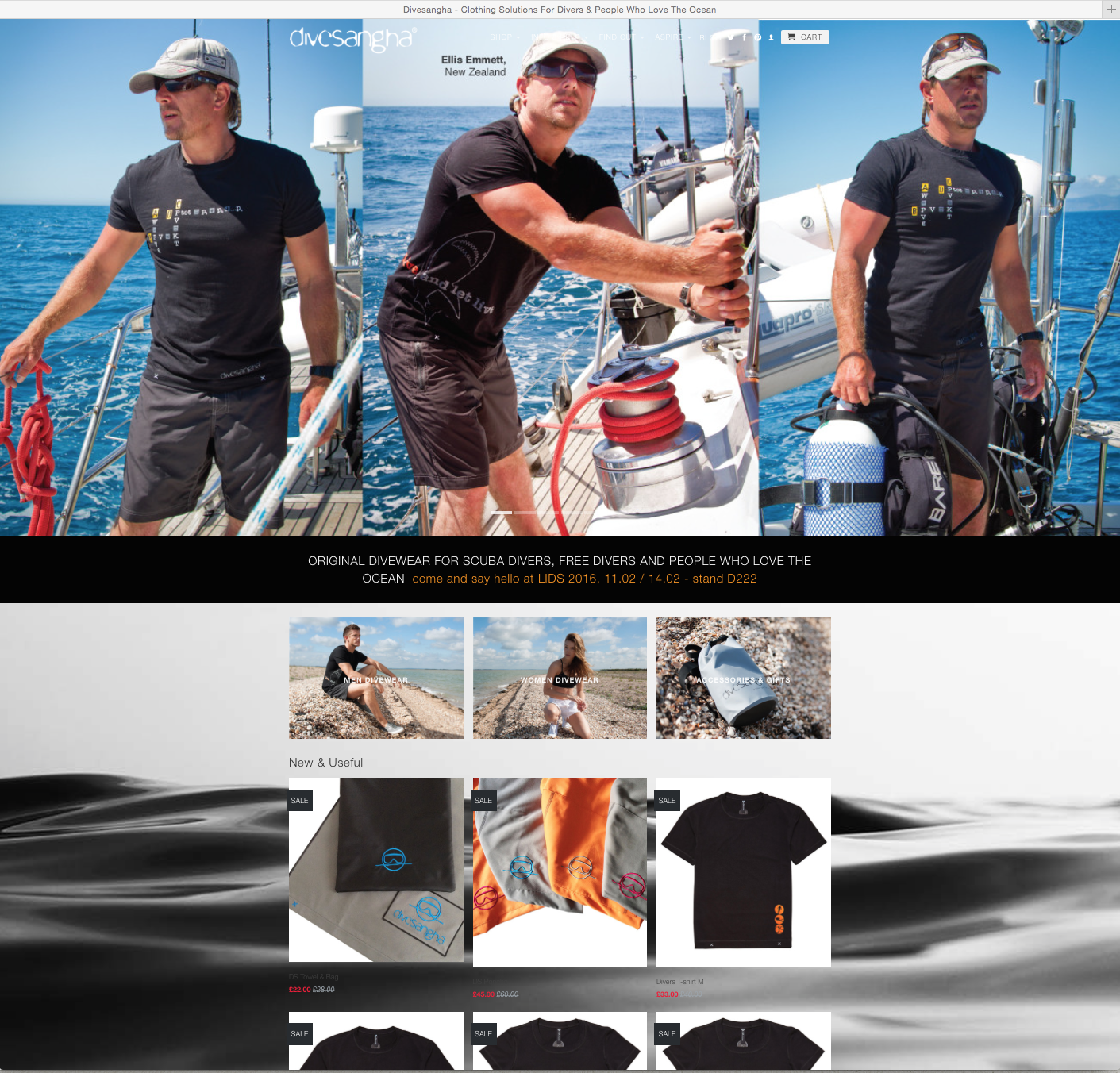 Ellis featuring on Divesangha's website as Ambassador.
http://divesangha.com
You can walk along the beach and recognise a surfer or a skater, walk on any street on a snowy day and spot a snowboarder, be on your way to work and clearly identify a serious runner but when was the last time you were near the seaside and recognised a diver? Divers, as in scuba divers and freedivers, don't seem to have a definite style and that's exactly what we thought when we started Divesangha.
The word "sangha" means "association" or "community" in Pali and Sanskrit, two of the most ancient languages on the planet. A sangha hints at something deeper than just a group of people having something in common, it expresses something of the unique and uniting harmony divers experience with nature in the marine environment. A sangha is a welcoming community, you certainly don't need to be a diver to join in.
The Divesangha team is made of a bunch of designers based in London. Over the years we have pretty much designed everything, from mobile phones to vacuum cleaners, but the truth is that we spend a lot of time dreaming about sea adventures. We are motivated by passion, uniqueness, innovation and a crazy love for the sea and for scuba diving.
We didn't start Divesangha because we thought divers and sea enthusiasts needed another cool t-shirt or another pair of funky shorts. We felt it was time for basic, easy to wear clothes that finally gave divers a proper identity and answered some specific needs. We call it "divewear" or "surface gear" and we designed it mixing fashion and sportswear, using functional fabrics and neutral colours.
We manufacture ethically and locally, trade fairly, design wisely and consume responsibly. Our divewear clothes are made in the UK as an exclusive, limited edition and we don't use any plastic bags in our packaging when you buy from our website.
Welcome to the sangha of divers & of all people who love the ocean.