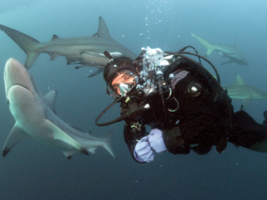 Behind the Scenes we talk to the diving duo behind the TV series Descending. Descending is an underwater travel documentary. The destinations and specific locations are underwater or focus on the underwater world.
Unlike a lot of TV documentaries, Descending hinges on a friendship between the two hosts (Ellis Emmett and Scott Wilson) where the main connection is about the common love of SCUBA diving?
The show airs nationally in Canada on the Outdoor Life Network (OLN), in Europe, the U.K. and Oceania on Travel Channel, and will soon start to air in the U.S. on Esquire TV.