Charity
Ellis Emmett has been involved in charitable projects, both at home in North Canterbury, New Zealand, and abroad.
Samoa Tsunami – 29th September 2009
The South Pacific Islands of Samoa have been devastated by a tsunami that hit the islands on Tuesday, 29th September 2009. An undersea earthquake measuring 8.3 caused waves between 3 and 7 metres and hit the south-west coasts, which were heavily populated by many high-end and budget tourist resorts and local villages.
Whole villages have been wiped out, with buildings flattened and beaches washed away. Residents had to leave everything behind as they evacuated to higher ground.
The tsunami had a devastating impact on the beautiful Samoan islands, with a terrible loss of precious life and property.
Samoa Pre-School Tsunami Project
On the 29th of September 2009, Samoa was hit by a massive 7-metre high tsunami. Many people were killed by the tsunami and it created a huge amount of destruction around the islands of Samoa. Lepuia'i Village of Manono Island was one of these.
The preschool in Lepuia'i Village was completely destroyed by the tsunami and only the concrete foundations, school gates and water tanks remained. Luckily all of the children from the pre-school ran up into the jungle to escape the waves.
Manono Island is situated just 3.4 km off the western most point of Upolu, the 3 square kilometer island has a population of around 800 islanders, distributed among the four villages of Apai, Faleu, Lepuia'i, and Salua. Dogs, cars, motorcycles, horses, heavy machinery and even bicycles are banned from this island. Locals reside in open-air fales (huts) and mainly 'live a subsistence lifestyle' surviving on a diet of fresh fish, taro, coconut, and fruit.
As the majority of Manono Islands population live off the land, they don't receive any income and for those that do have jobs, the average weekly wage is 140 Tala, the equivalent of about NZ$80. As such, the monetary wealth of this tiny island is extremely limited, although there is certainly no lack of manpower for rebuilding.
Mr Richard Khouzame is a man on a mission. He was scheduled to attend a friends wedding on Manono Island in Samoa two days after the tsunami struck. When the wedding plans were cancelled, Richard decided to travel to Samoa anyway and lend a hand. He travelled to the outlying island of Manono, he was the first outside assistance to arrive, and he started to pitch in, helping to restore water to the villagers and assisting to rebuild homes.
After returning home to New Zealand Richard was so touched by the islanders plight that he decided to start fundraising for a further, much larger project on Manono Island – 'Project Pre-School'.
Ellis Emmett was one of the volunteers to quickly join Richard's team of builders, architects and laborers. The team of 9 New Zealanders travelled to Samoa for approximately 3 weeks to build the new school house, situated on higher ground.
Although Manono Island was lucky to escape with the loss of only one life, the devastation the team experienced was incredible. The stories they heard of the 7-metre wall of water, which hit the island, will not leave these people for generations to come. Earthquakes and waves of this size are unheard of here. 
As in every culture, the children are the future. Children assimilate and adapt to circumstance, and for the people of Lepuia'i Village on Manono Island, seeing their pre-school rebuilt was to rebuild their dreams for the future. A future in which the continuity of the education of their children plays an important role in the rehabilitation of life for everyone. The financial wealth of this island is miniscule. The social, cultural, and spiritual wealth is immeasurable.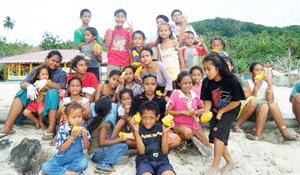 Help For Manono Island Preschool On The Way
Samoa Observer Newspaper
MANONO ISLAND SOS:
The kids of Lepuia'i Village take a mango munch break from collecting rubbish and debris scattered around the island from Septembers Tsunami.
Richard Khouzame is on a mission. He wants to help the children of Leupuia'I village, Manono Island, get an education. The Lebanese, Australian living in Waikanae, New Zealand, has set out to rebuild a preschool there. Manono Island was hit hard by the tsunami.
Richard, owner of Havens Woodfire Pizza, Waikanae, says if any positive change can be brought about through education it is vital for young children to be in the learning system. There has been so much money flowing to Samoa, but very little to the outer islands such as Manono, Richard told the Weekend Observer.
Richard has already spent a month on the island and he believes his mission will make a big difference in the lives of children who are sad to have lost their school and keen to be back.
Moved by the plight of the people, Richard first arranged for a fundraiser at his shop Heaven's Pizza. He flew to Manono with cash, equipment and food. But what touched him the most and encouraged him to achieve this target was the sight of children walking past a concrete foundation every day, pointing and reminiscing of the place which he later found was their school. "This is the time I made my mind up that I will make their dreams come true and build a school for them on higher ground," said Richard.
Richard returned to Waikanae and set a target of fundraising $50,000 for the project. This $50,000 includes three extra water tanks for the village, while a minimum $30,000 is earmarked for the pre-school. So far he has collected $14,000. He is appealing to New Zealanders to generously donate to his cause 'Water Harvest Trust' set up by the Bank of New Zealand. He also has brought a team of volunteers together, who will return to Samoa with him to build the school in 2010. "The children are our future," he says. "This is not about me or my business but for me the priority is the children of Manono Island and this will only be possible if we collect enough funds and resources.
"If I can go to my neighbours and families and talk to friends and relatives for help, then if we all get together we can make it. It's all about the difference we make in someone else's life. We are blessed to be able to make a difference. We have peace in our lives – we have drinking water,which they do not have."
Richard says "So far people have been donating kindly. Single drops will fill the bucket" he says. He recalls spending sleepless nights when he returned from Samoa before starting the project and promised the children he'd build a school for them.
Ellis Emmett say's "he has never seen anything like it before! Houses, made from concrete blocks, whipped off their foundations, Huge concrete and steel structures wrecked, tree's uprooted and debris piled high where the wave has pushed them". 
As a keen diver, he says "the outer reefs around the islands have taken a hammering, with large areas of coral broken off or upturned and a huge amount of garbage and silt, which was sucked out by the wave entangled in the reef".
* * * * * * * * * * * * * * * * * * * * * * * * * * * * * * * * * * * * * * * * * * * * * * * * * * * * * * * * * * * * * * * * * * * * * * * * * * * * * * *
The Tree House hosts regular visits for Savvy Seniors
On a regular basis Ellis, and his wife Sanna, are opening up their home 'The Tree House' and gardens, and welcoming groups of senior citizens into their home. The group Savvy Seniors (made up of senior citizens) come out for regular day trips and to enjoy lunch at 'The Tree House'.
Phil and Anne, the organizers, round up a new group of senior citizens from Christchurch city for each event, and drive the 1 1/2 hours to 'The Tree House' for their visit. These trips are very popular and always fully booked.
Ellis and Sanna are happy to give their time and energy, as well as opening up their home for this great cause. They very much believe in giving back to the community and enriching and inspiring others, no matter what their age.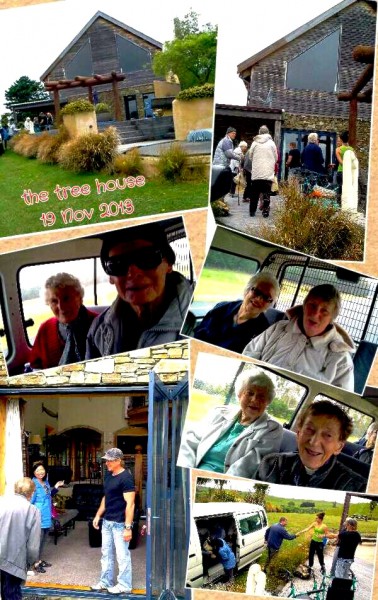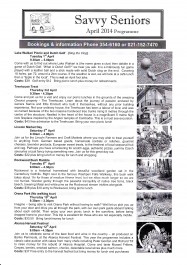 * * * * * * * * * * * * * * * * * * * * * * * *  * * * * * * * * * * * * * * * * * * * * * * * * * * * * * * * * * * * * * * * * * * * * * * * * *
Tony Christiansen School & St John's Fundraising Event
Closer to home, Ellis Emmett & his wife Sanna are committed supporters of their local community, in particular the Cheviot Area School and St John's Ambulance.
The local community relies on independent fund-raising for regular maintenance, improvements and upgrades of the St John's Ambulance and emergency station.

In addition to generous monetary donations, Ellis & Sanna organised and sponsored the visit of the well known inspirational speaker, Tony Christiansen, to Cheviot for two events held in 2008.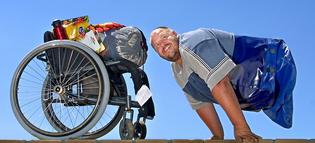 The first event was put on for the Cheviot Area School and was co-ordinated with the Amuri Area School to inspire and teach the school children and young adults that anything in life is possible, provided you are prepared to fight for it.
The second presentation was put on for the local community as a fundraising event,  all proceeds from the event were donated to the St John appeal.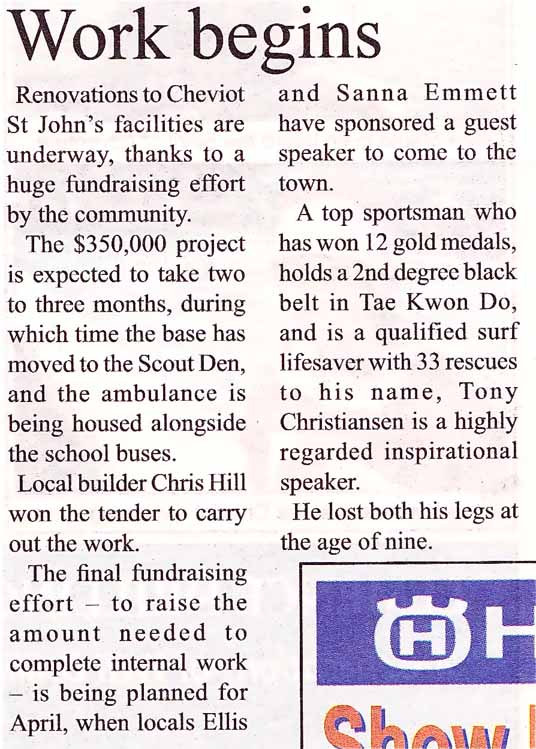 Tony lost both his legs in a train accident at the tender age of 9 when he was collecting coal at a railway yard for a community project.
Although he was not expected to live past the age of 16 due to physical and mental challenges as a result of his horrific injuries, Tony defied the odds and went on to achieve more in his life than most people would even consider trying.
Tony Christiansen has a story to tell. It's a story everybody will relate to, it's an unforgettable and inspiring story and he will make you go home believing that nothing is beyond your abilities.
From the first time you set eyes on Tony and hear him speak, you will be in awe.  
Tony has achieved more in his life that most of us are even willing to try. And he will tell you how you can achieve it too. 
Tony has spoken to people from all walks of life, from powerful politicians and successful business people to veterans and students, across many countries and cultures. 
He is humorous, bold and straight-talking. You will laugh. You may even cry. His message is important. It is thought-provoking. And he is truly inspirational. 
Commanding standing ovations around the world, Tony Christiansen's story will hit right where it matters. He will break through and your audience will respond. 
* * * * * * * * * * * * * * * * * * * * * * * * * * * * * * * * * * * * * * * * * * * * * * * * * * * * * * * * * * * * * * * * * * * * * * * * * * * * * * *

Fundraising for St John Ambulance Station