Departures Television Show

Departures clip – New Zealand

Departures – The Conception
A chance encounter in late 2001 brought Ellis Emmett, Scott Wilson & Andre Dupuis together in a small dusty town by the name of Siem Reap in Cambodia, Southeast Asia.
Ellis had just returned to Siem Reap following his wild journey through a great portion of mainland South East Asia. Scott and Andre were working for a production company, Sivell Communications, filming an adventure travel show by the name of 'Don't Forget Your Passport'.
Ellis and the film crew hit if off straight away and before long it was agreed that Ellis would guide the film crew the next day out to a remote and ancient temple, called Bang Melia, deep in the Cambodian jungle.
In those days Bang Melia was very seldom visited by travellers. It was almost entirely overgrown by jungle, very remote and very hard to find. The area still had to be de-mined, as live land mines still lay buried amongst the overgrown ruins (a remnant of the Khmer Rouge fighting 1975 – 1979). Sticking strictly to the narrow winding trails was highly recommended.
After less than an hours riding Gordon Sivell (the producer and owner of the production company) and Ross Shimmon (the host of the show) had a serious motorbike accident. The accident caused Gordon to break several ribs, his arm, and his collarbone, and he ended up with a serious head injury, rendering him unconscious for quite some time.
Gordon eventually regained consciousness and with some assistance from local Khmer villagers they managed to drag the injured Ross and barely conscious Gordon and his wrecked bike back to Siem Reap. There was no hospital of note in Siem Reap, but a small medical centre accepted them. However due to lack of medical staff, Ellis ended up having to assist the doctor in the surgery. Gordon was later flown to Bangkok to a more modern hospital for further treatment.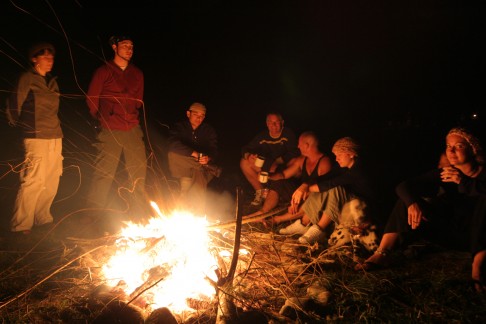 Following the accident Ellis accompanied Scott, Andre and the rest of the film crew and acted as a volunteer guide, as he knew the area well.
Sometime later Gordon offered Ellis a position hosting the travel show for the following season.
Over the next two years Ellis trecked the globe with the film crew, hosting the show 'Don't Forget Your Passport'. Throughout this time Ellis worked closely with Scott and Andre and he recalls that it was always their long term dream to some day produce their own travel show – their own style – their own rules!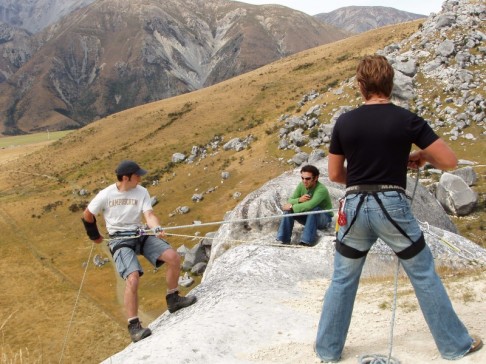 During the filming of one of the episodes in Chile, South America, Ellis met Sanna, a Scandinavian girl, who was travelling with a friend. Their attraction to one another was immediate and they met up several times throughout different countries in South America.
After travelling and filming, Sanna and Ellis' relationship grew as they flew back and forth around the world for the following couple of years visiting each other. Sometime later a date was set for their wedding early in 2005. 
Obviously, at the top of the wedding invitation list was the Canadian film crew. Scott and Andre decided to accept the invitation, but it came with a request. If they were to fly all the way to New Zealand for a wedding, they wanted to at the same time achieve something towards their dream. They wanted to film a pilot episode, for their proposed new show concept 'Departures'.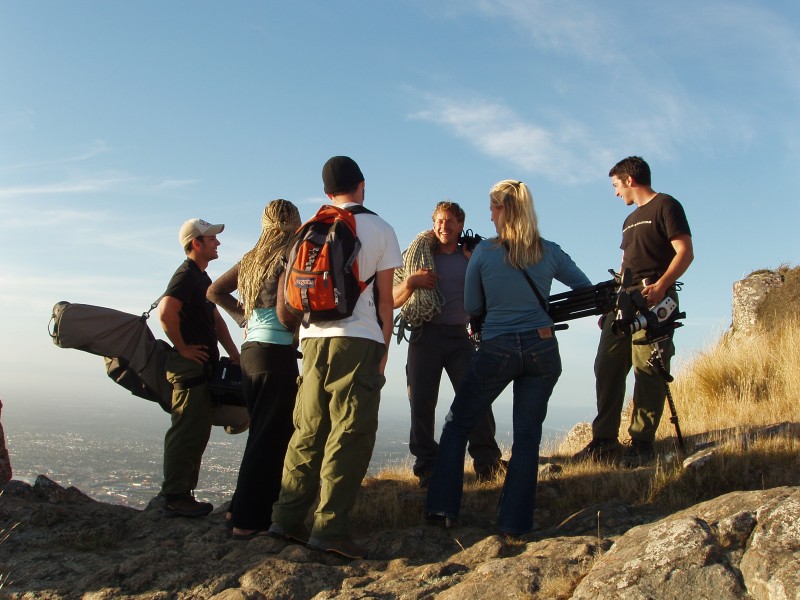 So a deal was struck, Scott and Andre would film Sanna and Ellis' wedding in exchange for some impromptu adventures and a guided tour around New Zealand.
Ellis and Sanna's wedding was a very international affair, with many friends and family flying from all around the globe. It was this reason they chose not to disappear on a honeymoon following their wedding. Rather their honeymoon was a four-day rafting trip for 25 friends, and a film crew to boot!
The 'Departures' pilot was finally pitched to the Outdoor Life Network (a Canadian television network), after more than a year of painstaking preparation and attention to every detail, by a dedicated team. Scott and Andre were told not to expect to hear anything for several months from the network and not to be too dissapointed if their concept was rejected. 
To their surprise, a representative from the television network rang a few short hours later to set up a meeting with Scott and Andre. Before long the green light was given and about 3 months later Scott, Andre and Justin Lukach (the co-host for the new show) and the rest of the team hit the road running – literally!
'Departures' was finally born – 13 episodes, 6 ounces, with proud overworked and slightly overwhelmed parents.
The following year the 'Departures' film crew returned to New Zealand to film two episodes, again with the assistance of Ellis and Sanna.
The rest, as they say, is history!

From The Departures Team
After serving as a crew for other travel television programs, Andre Dupuis and Scott Wilson decided to shoot a travel show their way – without cutting out the experiences that make travel real – for better or worse! The result is Departures, a revolutionary program that enjoys passionate fan base and industry recognition. Departures has not only received multiple Gemini Awards highlighting its leadership in cinematography, but also a loyal audience in the more than 50 countries it airs, and a very active social media fan-base, with over 25,000 active participants on Facebook alone.
Aimed at the adventure seeker, Departures is an action-packed and personal journey about two travellers. Scott Wilson and Justin Lukach leave their lives behind in search of unique experiences through some of the most beautiful and remote places on earth. From epic landscapes and unforgettable culture, to the often trying times that come with international travel, the series chronicles the unforgettable friendships, personal successes and sometimes crushing disappointments that befall them on their journey. Accompanied by their friend and cameraman, Andre Dupuis, Departures showcases the revelations of two travellers who strive to find themselves and new perspectives while trekking across the globe.
Departures is as much about the journey as it is the destination. No prizes, no contests, just real life and real travel.
Format: Travel/Adventure Documentary
Created by: Scott Wilson and Andre Dupuis
Starring: Scott Wilson and Justin Lukach
Season 1
Canada – ocean to ocean

Jordan

India – sacred ground

India – quest for Himalayas

Ascension Island

Japan – the future

Japan – the past

Cook Islands

New Zealand – untouched

New Zealand – adrenaline

Thailand

Cambodia

Canada – pushing north
Season 2
Morocco

Libya

Brazil – piranha soup

Brazil – treading water

Cuba

Mongolia – tribes & tribulations

Mongolia – meals & wheels

Iceland

Antarctica

Zambia

Madagascar

Chile – ups and downs

Chile – ends of the earth
Season 3
Russia – comrades & capitals

Russia – the bull of winter

Sri Lanka

Vietnam

Papua New Guinea – fire and water

Papua New Guinea – without a paddle

Ecuador

Ethiopia – saints and snakes

Ethiopia – dances with bulls

Rwanda

Greenland

North Korea – the other side

North Korea – the musical

Indonesia – ring of fire

Indonesia – a home away

Australia
| | | | | |
| --- | --- | --- | --- | --- |
| Year | Category | Nominee | Episode | Result |
| 2008 | Best Photography in an Information Program or Series | Andre Dupuis | India: Quest for Himalayas | Won |
| 2008 | Best Picture Editing in an Information Program or Series | Joshua Eady | India: Quest for Himalayas | Nominated |
| 2009 | Best Picture Editing in an Information Program or Series | Joshua Eady | Cuba | Nominated |
| 2009 | Best Picture Editing in an Information Program or Series | Jordan Krug | Zambia | Nominated |
| 2009 | Best Picture Editing in an Information Program or Series | Alvin Campaña | Cambodia | Won |
| 2009 | Best Direction in a Lifestyle/Practical Information Program or Series | Andre Dupuis | Libya | Nominated |
| 2009 | Best Photography in an Information Program or Series | Andre Dupuis | Mongolia: Tribes and Tribulations | Won |
| 2009 | Best Host in a Lifestyle/Practical Information, or Performing Arts Program or Series | Scott Wilson | Mongolia: Tribes and Tribulations | Nominated |
| 2010 | Best Photography in an Information Program or Series | Andre Dupuis | Ethiopia: Saints and Snakes | Nominated |
| 2010 | Best Picture Editing in an Information Program or Series | Jordan Krug | Papua New Guinea: Fire and Water | Nominated |
| 2010 | Best Picture Editing in an Information Program or Series | Joshua Eady | Russia: The Bull of Winter | Nominated |